Area Map
Access
3km from Vasant Kunj
6km from Vasant Vihar
5km from Metro Station
8km from Airport
15km from Connaught Place
I am an ex Hotelier with several years of experience in Europe as well as India and offer you the very best in Service Apartments in terms of comfort, pricing, location, features, equipment and service. I own and run service apartments for a select few like-minded people who are in it to provide you quality accommodation at a very affordable price. I am not an agent and I dont charge you any commission!
My Service Apartments give you unmatched quality and value for money - few can equal here in South Delhi.All apartments have been re-done entirely and what you see in the pictures is what you get!
he 'CARAVANSERAI-1'(1100sq/ft) was my first effort at completely redoing interiors and has been my most popular Luxury Apartment -esp with my Japanese guests. All the furniture you see has been designed by me and the soft furnishings and other accessories come from the best names in town.
hese are very complete SERVICE APARTMENTS MEANT FOR SHORT, MEDIUM TO LONG TERM STAY -and not some hastily put together so called -furnished apartments. I have been a Hotelier long enough to know what the discerning traveler expects! The 'Caravanserai' at Vasant Kunj and the two new 'Country- 1'and 'Country 2' Service apartments at Shanti Kunj-as well as the ALL NEW 'CARAVANSERAI-3at Vasant Kunj are amongst my recent efforts at interior design- modern Scandinavian with all the comfort and luxury one would expect from a well appointed apartment. All the apartments are fully furnished with full service.
THREE NEW 2 BEDS HAVE JUST BEEN ADDED AT
SHANTI KUNJ,WITH IN-HOUSE GYM AND A POOL .
A caravanserai was a roadside inn where travelers could rest and recover from the day's journey. Caravanserais supported the flow of commerce, information, and people across the network of trade routes covering Asia, North Africa, and South-Eastern Europe.
Most typically it was a building with a square or rectangular walled exterior, with a single portal wide enough to permit large or heavily laden beasts such as camels to enter. The courtyard was almost always open to the sky, and the inside walls of the enclosure were outfitted with a number of identical stalls, bays, niches, or chambers to accommodate merchants and their servants, animals, and merchandise. Caravanserais provided water for human and animal consumption, washing, and ritual ablutions. Sometimes they even had elaborate baths. They also kept fodder for animals and had shops for travellers where they could acquire new supplies. In addition, there could be shops where merchants could dispose of some of their goods.
The word is also rendered as caravansarai and caravansary. It is a Westernization of a Persian word which combines caravan with sarayi - meaning dwelling, palace, or enclosed courts. Caravan itself has come to have a similar meaning in English, where it refers to a group or convoy of soldiers, traders, pilgrims, or other travelers engaged in long distance travel.........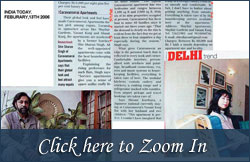 CARAVANSERAI APARTMENTS
SHIV SHARAN SINGH,
14 MAYFAIR APARTMENTS , HAUZ KHAS
NEW DELHI , 110016, INDIA
TEL :00- 91- 11 - 6565 5901
MOBILE 24 hrs :00- 91- 98 100 80746
EMAIL : me
[email protected] , [email protected]